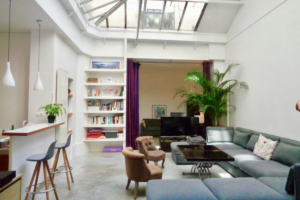 When collaborating with LIVELY INSIGHTS, live the insightment and creative experience or the strategic workshop in a unique place, ideally located in the heart of Paris, in between the Rue du Faubourg du Temple and Canal Saint-Martin (11 Rue Bichat 75010 Paris).
About the Lively Place
Find inspiration in a versatile and stylish loft where you can comfortably and actively participate to immersive consumer groups or run strategic and innovation workshops.
The "living room" under the glass roof is perfect for group discussions or ideation sessions.
The "pool / snooker area" is perfect for a break, an informal discussion and a creativity boost.
The "isolated thinking corner" is perfect for small group thinking sessions.
> If you're interested in renting the loft for a meeting / training session / workshop / brainstorm, don't hesitate to ask for a quotation here.